Post by tempelkim on Sept 14, 2019 5:36:09 GMT -8
What a night - finals!
After some more waiting for tools, dabbling with the case, again waiting for tools, once more washing and oiling the balance and some more case work last night was going to be the night where everything should go together.
Inserting the new crystal went surprisingly well. The old gasket was in good condition and only got some 'Seiko Silicon Grease TSF-451' which I hope is correct for that purpose. Next was putting the dial on after some careful Rodico treatment. Then I noticed I forgot the case ring. So off with the dial and on with the ring. Next I noticed the day wheel looked odd. Well, my 573B has the crown at 3 o'clock whereas the wheel donor has it at 4 - bollocks. Again off the dial, off the day wheel and in went the original German/English day wheel.
Then came the hands - a task I have really been afraid of. The hour hand was a bit twisted, but i managed to mend that with two pairs of tweezers without making it worse. Most difficult was getting the seconds hand on, but somehow it worked at some point
and it even started running though there should have been no power left in the main spring. So I faithfully popped it into its case, inserted the crown and... ...wait a minute. Why does it stick out? It is not the original one as that one is bent. Aren't they all the same? Obviously that is another case of 3 vs. 4 o'clock. Luckily the other spare movement has a crown that fits, but with the gasket missing. So for now it will do. Ordered some gaskets. Like many of the interesting Seiko parts they ship from the UK. (I hope Mr. Johnson will not get through with his stupid Brexit plans or in the future I'll be sitting at custom's office twice a week).
And then was the time. Screwed the case back in, gave it a shake and it was running and looking good. And then it stopped.

Gave it some more shake, it started running and it stopped. Moved it around for two minutes (thanks god nobody was looking), but it still wasn't running. So I had to open it again (is it the balance? did I break something?). Well, some may have guessed already - I forgot to put the rotor on.

Having done that it was running when the case back was back in. I mounted the non-original bracelet it came with, because I currently have nothing else available in 19mm and put it on my wrist. That was 15 hours ago. It didn't stop since then. I wasn't looking at the exact second when setting the time, but there is no obvious gaining or losing since then. Fortunately I do not have a time grapher yet so I cannot tell how bad it actually is.
This is what it looks like now: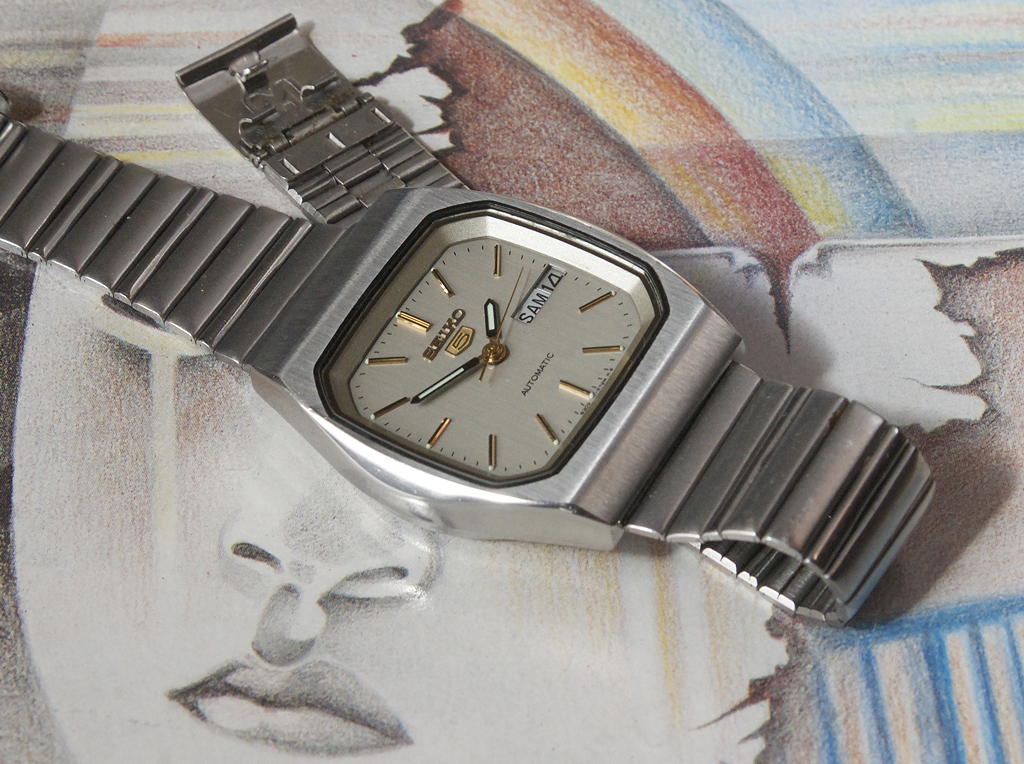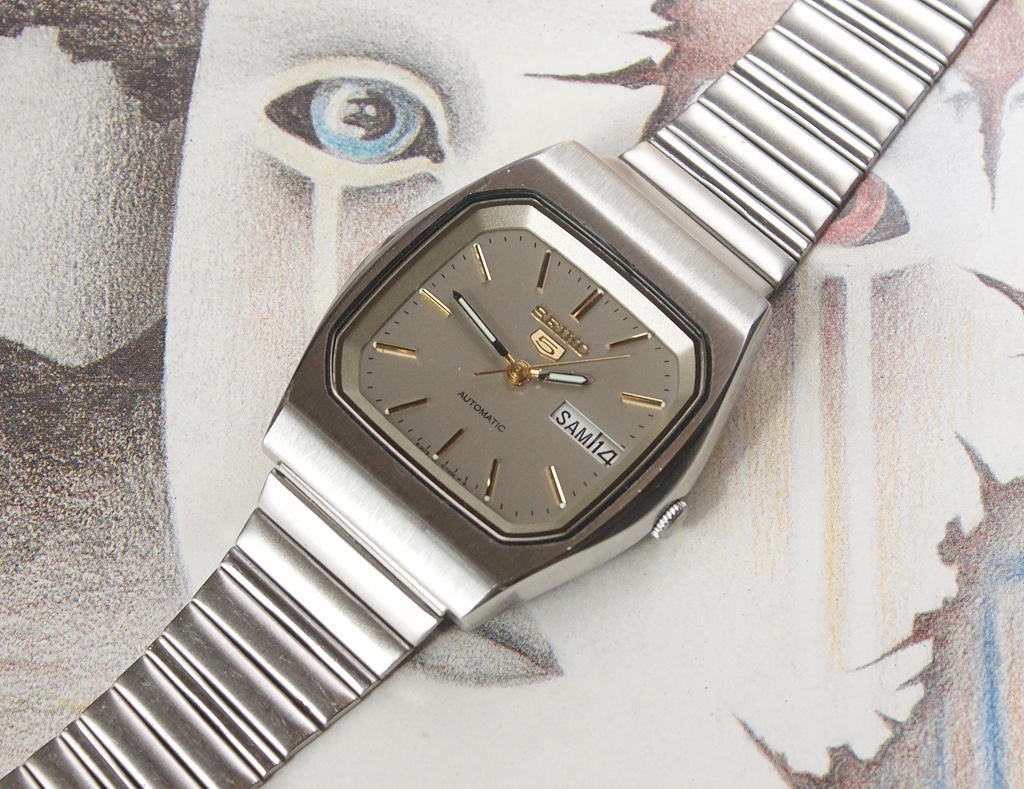 It is definitely far from being perfect, but it surely is better than when I started so I count that as a success. ...or quoting the great Jeremy Clarkson: 'I mended something!'
I would like to thank the wristsushi forum and especially Mr.
Mike_B
who have been of great help in achieving this.
Next is this one: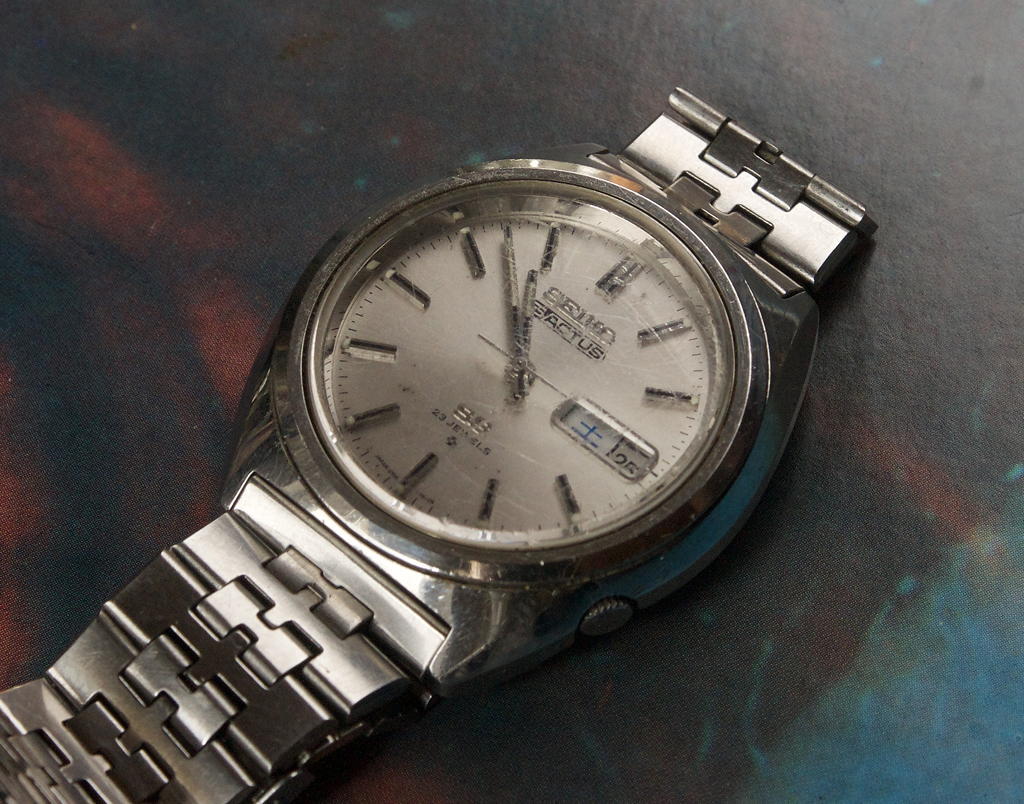 PS: Extra points will be rewarded to the ones who guess which contemporary record covers have been used as background for the pictures.