Post by cannop on Nov 20, 2013 3:44:34 GMT -8
I've assembled many mods over the last couple of years, but all for other people, this is the first I've done for me.

I'm sure you all know about Johns TST mod he's managed to get off the ground. Well I'm fascinated and impressed by the sheer amount of work it must take to create a shroud from scratch and machine a case to the tight tolerances needed, especially with no super expensive CNC set up. To do it from a home workshop and be able to reproduce the same result time and time again is a huge achievement as far as I'm concerned. Anyway I've seen a few people post their creations and have been impressed with the results, so I decided it's time I got around to having a go. I had an idea of what I wanted to achieve which was to create something that Seiko
should
have created, something that unless you looked at it closely and know your Seiko's you'd think came out of the Suwa facility back in the seventies. I decided on a shrouded 6309-7040, as close to stock as possible.
As I don't like the idea of machining a perfectly serviceable watch I decided to start with an ebay Philippines special. This was what I found from Ramon.
It was a 6309-7290 that yielded a decent crown and stem, good case, a good bezel, a chapter ring, crystal gasket ring and dial ring. I even used the hands. My reasoning was so long as the donor is a 6309 diver it doesn't natter whether it's a slim or cushion case as they both end up with the same dimensions.

I started by sending the case off to John for machining and began to assemble the parts I needed to get this project done.
I already had a reasonable original dial in the parts drawer, so I ordered one of Harolds excellent reproduction inserts and a set of aftermarket hands. I couldn't decided whether to use the a/m hands or the originals that were rattling around in the case. As I was going to get everything relumed I thought I may as well get both sets done and I can decide afterwards.
James Hyman did a fantastic job with the relume, he must have a super steady hand! Everything was done, both sets of hands, the insert (James even managed to retain the little lens in front of the lume) and the dial.
And of course it glows nice and brightly.
A 6309 dress watch that had never been opened gave up it's movement for the project, it was removed and serviced.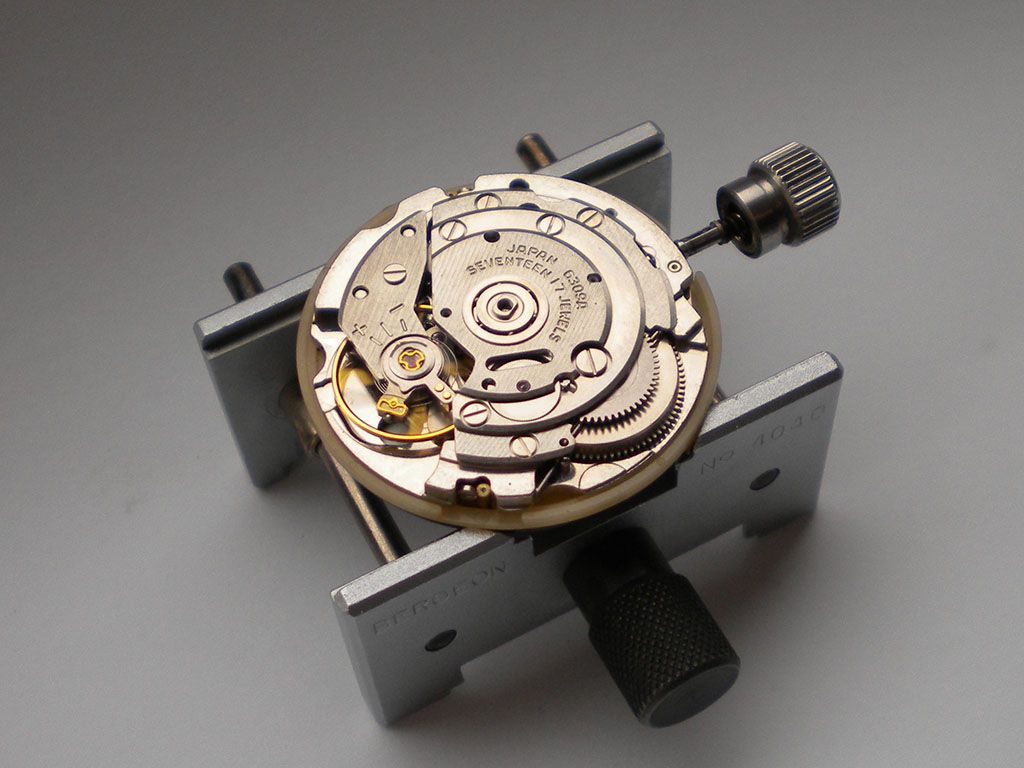 Finally yesterday the last parts arrived from around the world. The total parts needed for this were a new insert, crystal, crystal retaining ring (as the ebay donor was cracked), shroud screws, a complete set of gaskets and o-rings, a new click ball and spring, a new shark mesh bracelet, the new shroud, the machining work and an original 6309-7040 dial. I also had to rob the parts drawer for a good movement and a set of crown at 4 o'clock calendar wheels.
Here's a shot of everything brought together pre-assembly.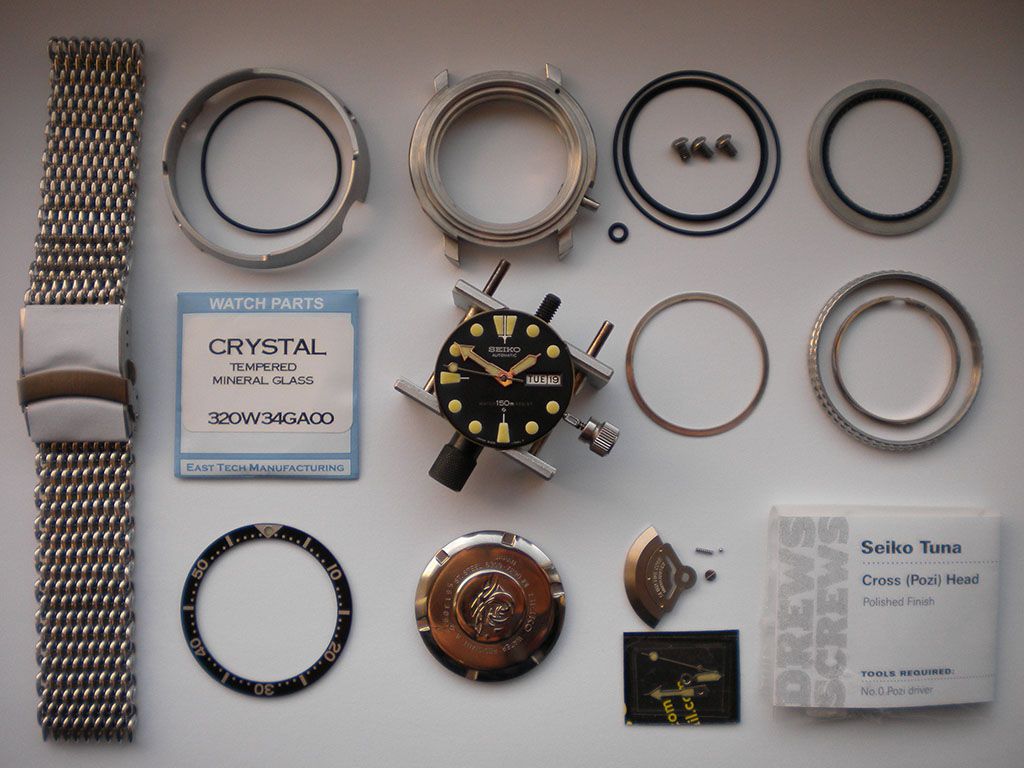 The attention to detail John takes with his machining work is fantastic. Micro engineering at this scale magnifies every fault and blemish butI have to say the detail and the finish is exemplary.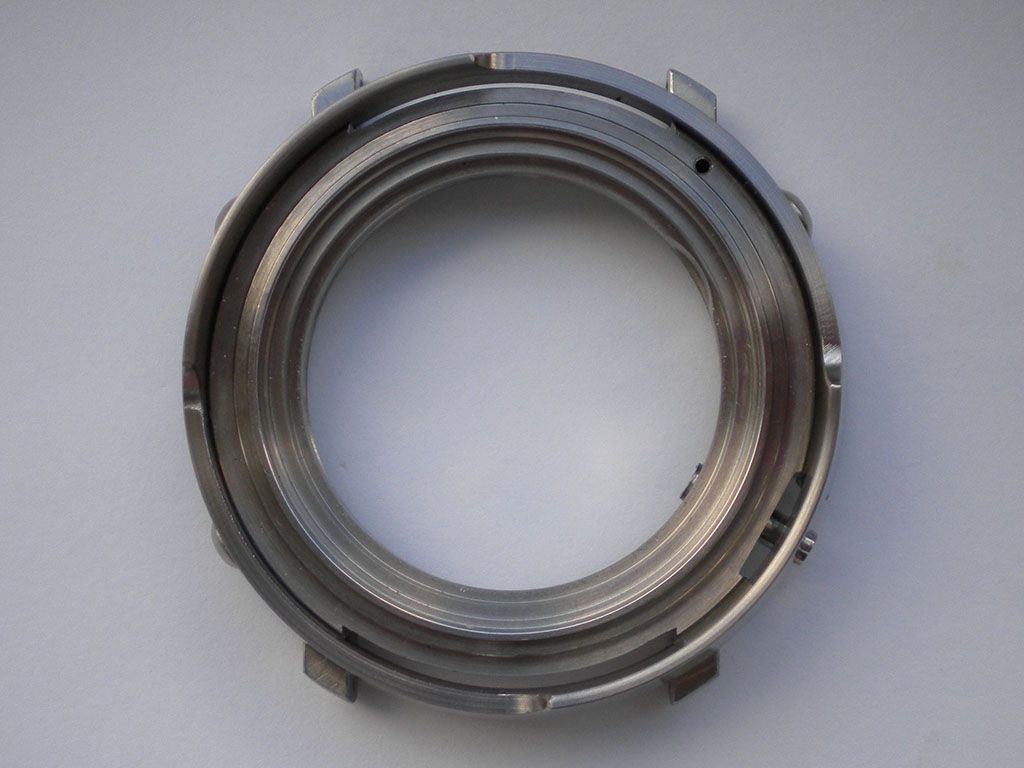 The first stage after an ultrasonic clean of the machined parts (not that they needed it really, it looked like John had already taken care of the cleaning) was to assemble the chapter ring, gasket support ring, gasket, crystal and crystal retaining ring.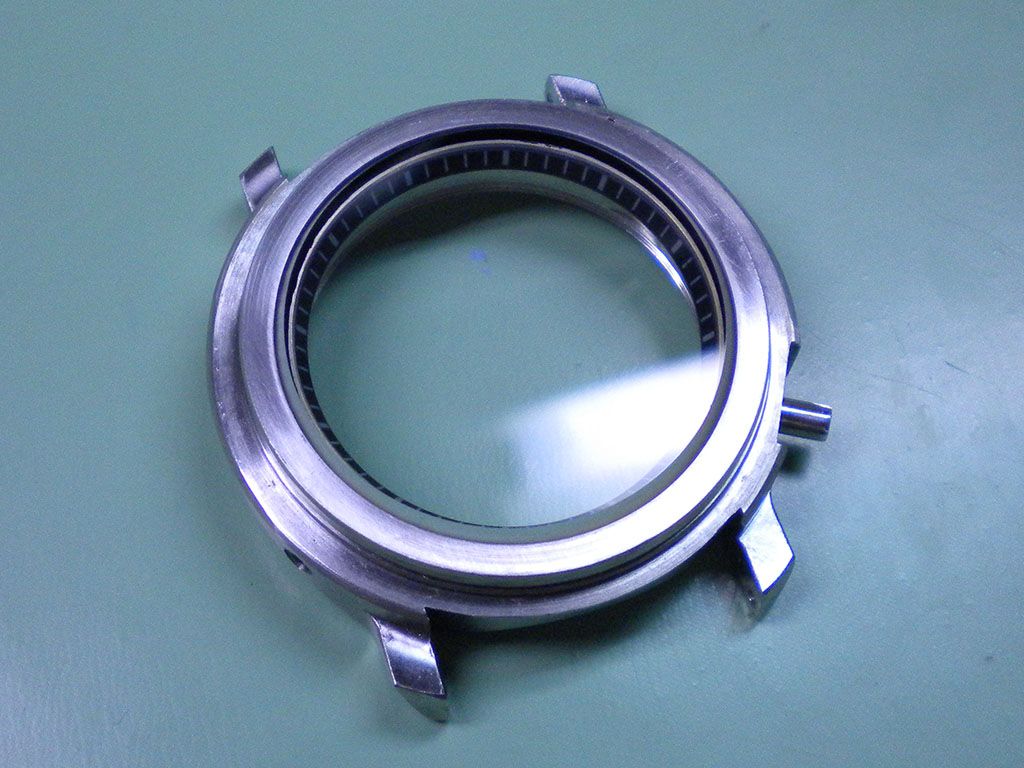 As I'd previously rebuilt the crown and split stem with a new o-ring....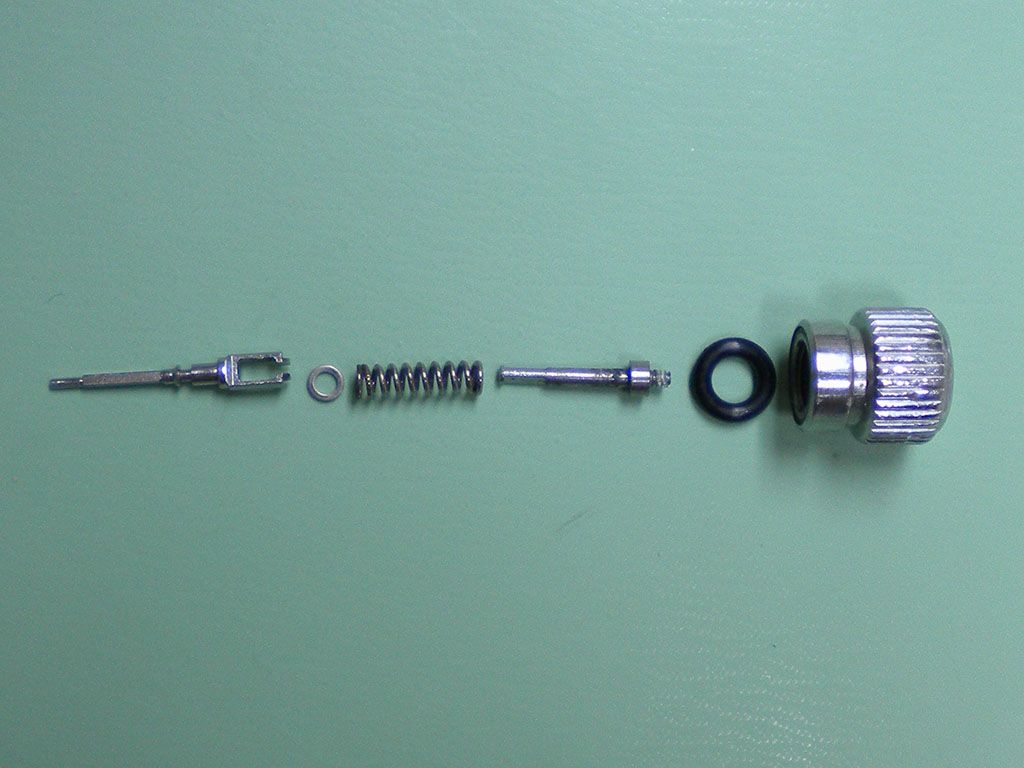 .... I dropped the serviced movement back in, fitted the crown, movement ring and spring and caseback gasket.
I popped the caseback on then fitted the click spring, click ball, bezel and insert and it looked like this - shroudless!
So the shroud was fitted next....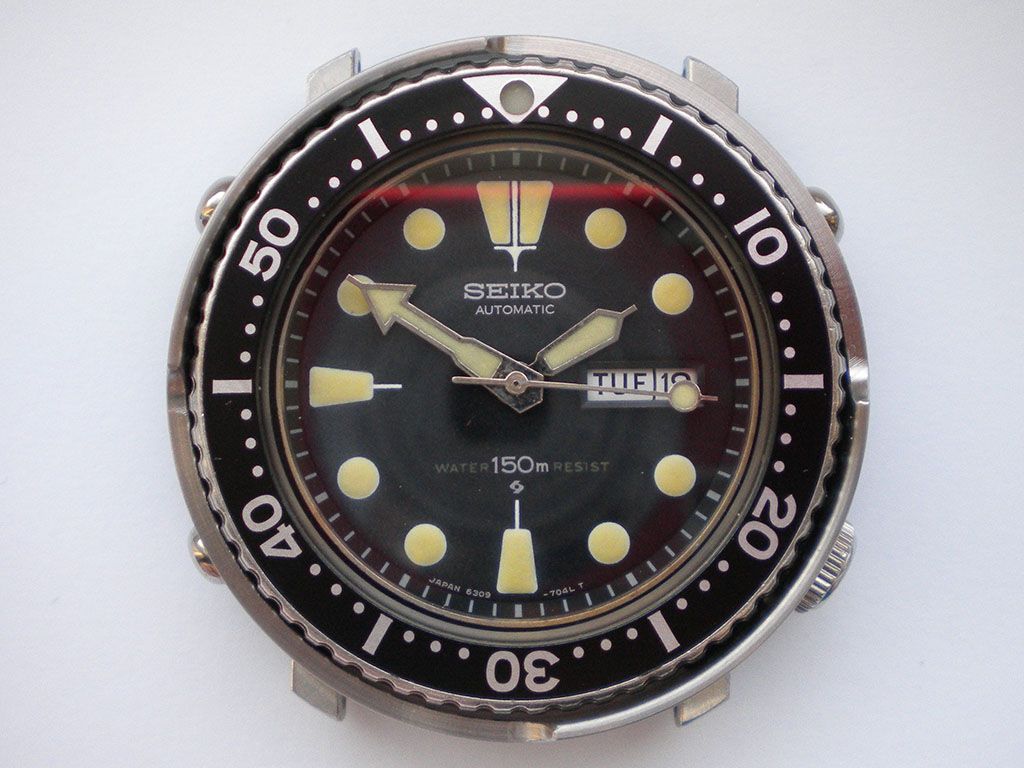 ... with the new polished screws.
The crown detail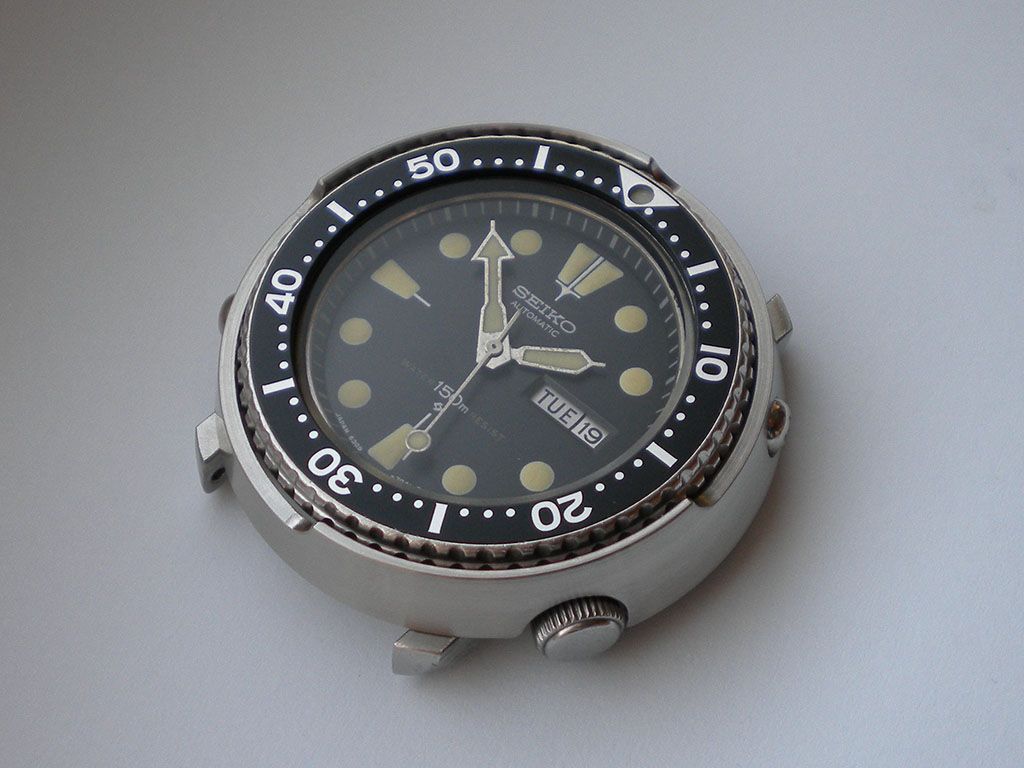 I finally fitted the springbars and shark mesh and the result was this ...
A look at the rear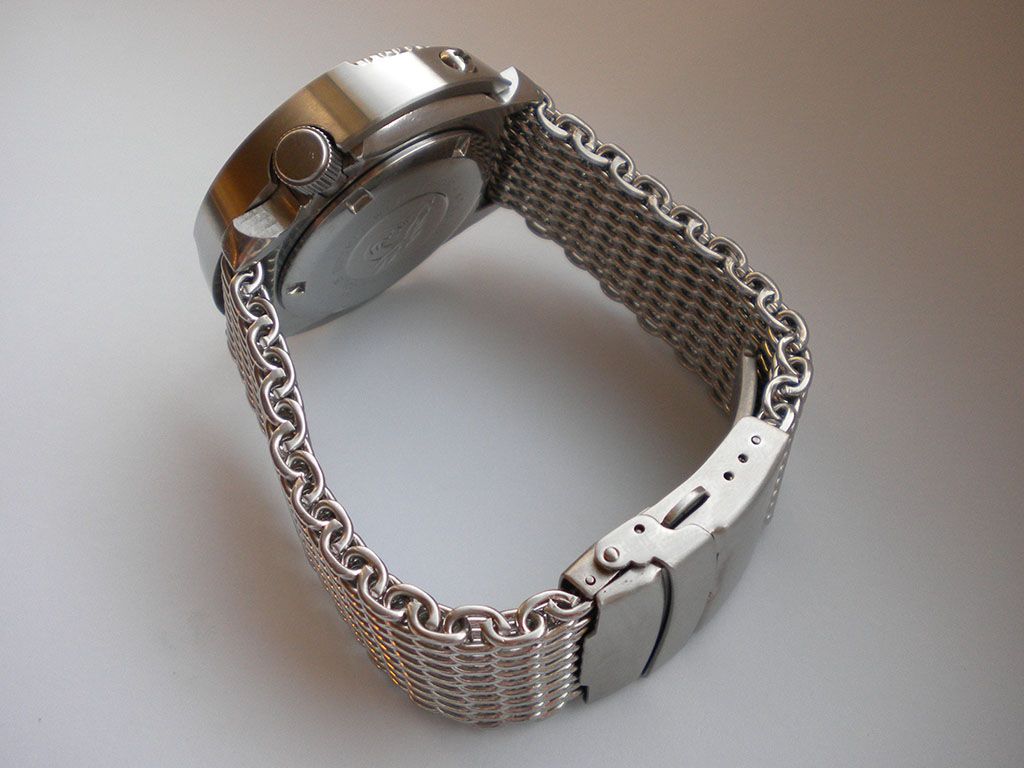 And of course the wrist shot
I'm over the moon with the result, I didn't want a build with a new dial, hands etc, as I've said my aim was to make it look as though it's a well cared for survivor from the seventies and I think it manages to pull that off very well.
Thanks for looking.