Post by tritto on Apr 26, 2015 13:45:25 GMT -8
I put this post on my new 7005 8050 on SCWF but since I attracted so many likes when I put it in Sunday' WRUW, I thought maybe those of you who aren't SCWF members might enjoy it.
I haven't had anything new to share for months so I thought I'd put up some pictures and thoughts on the 7005 8050 that arrived a couple of days ago.
Firstly, this is a great little watch. It shares a lot of DNA with the 62MAS, with the dial, hands, bezel and insert all being quite similar to its more famous and desirable cousin.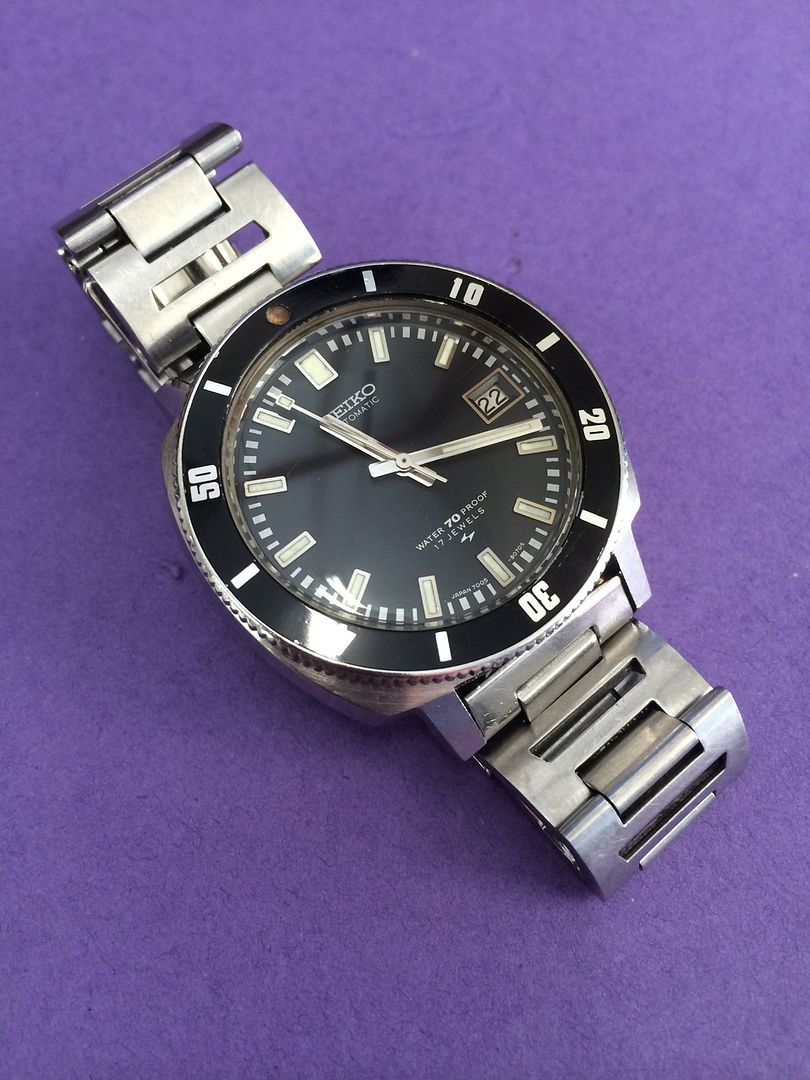 It actually seems to be less common than the 62MAS, but doesn't share its place in history so can be had for substantially less, with nice examples currently going for around $300ish on eBay, although bargains like this one can be had for less again.
For a 'diver' style watch it is fairly modest in size - reflecting its introduction in the late 60s before Seiko started pumping out bigger models like the 6105 and 6309 divers. Since I found it a little difficult to find consistent dimensions online, here they are: Width: 38mm (39 with crown)
Lug to lug: 44mm
Lug width: 18mm
Height: 10mm
Bezel insert: 30/37mm approx.
I believe it's actually 1mm wider (excluding crown) than the 62MAS.
Here it is next to my 6306 7001: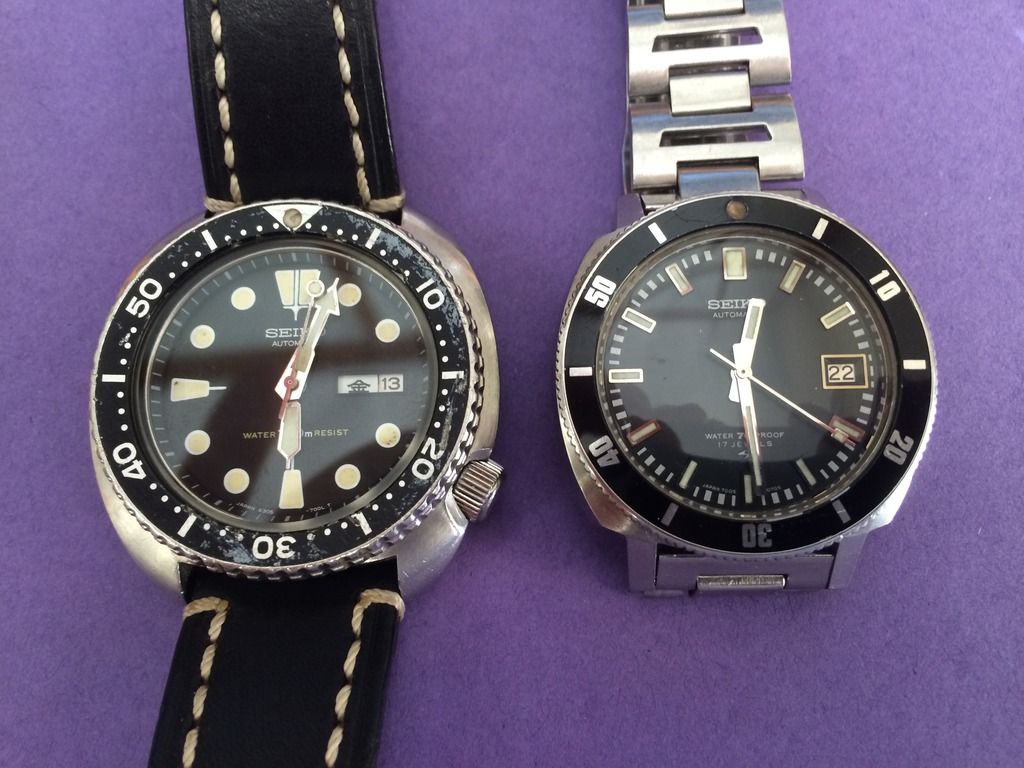 Of course, it's not really a diver - more a sports diver with only 70m water resistance. I like to think of it as a dress diver. It looks really sharp on the funky but not original bracelet (quite a good match despite the imperfect fit of the end links to the case). It's small enough to fit comfortably under cuffs and also looks nice on a simple black leather strap. It wears well on my 7.5" wrist, although the bracelet is tight and I need to get myself a bracelet extender. Where it departs most from the 62MAS is in the lugs, which give you some nice angles to catch the light but do reduce its presence on the wrist somewhat.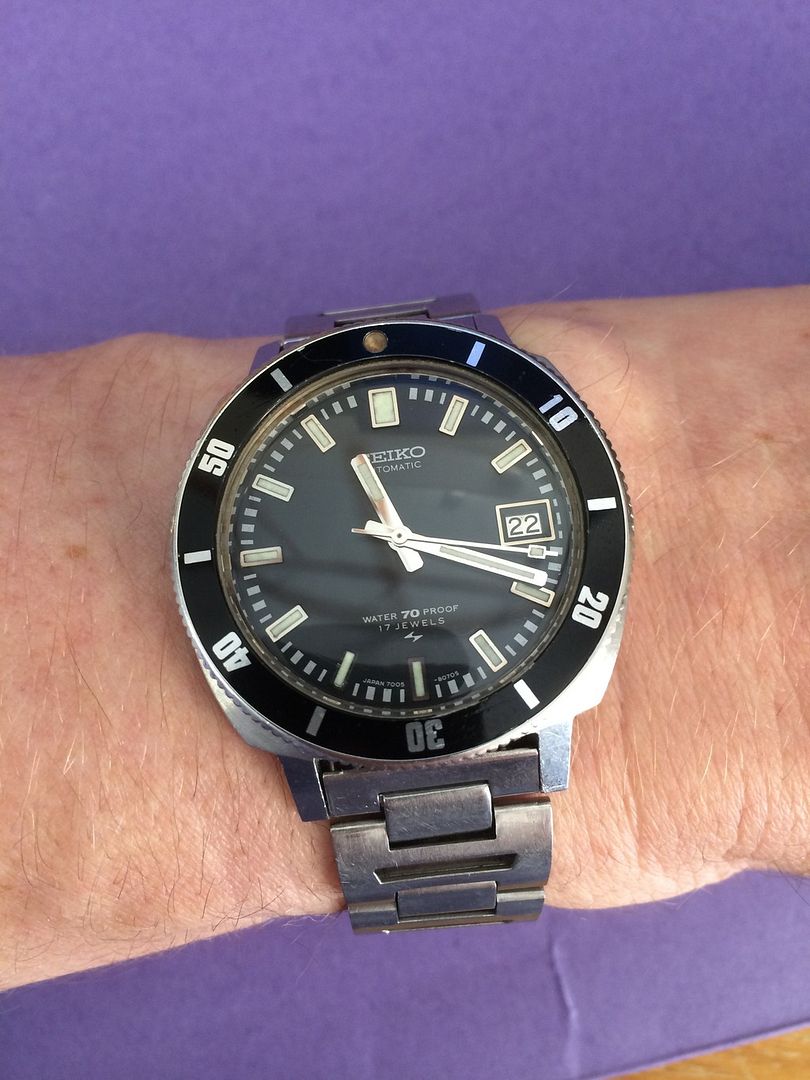 I've been pretty lucky finding this December '69 proof/proof example. The dial and hands are pristine with no sign of lume rot or any corrosion. The bezel insert is in good nick - save for the pip and some minor scratches. I really like that coin edge bezel too - and it rotates smoothly. The case is really sharp with no evidence of polishing and the brushing on the upper surface is intact. No lume shot but I was amazed to find that the lume still glows faintly - even after 45 years.
I'll finish up with a few more photos. I wasn't looking for this model in particular but I'm quite taken by it. If you stumble across one for the right price then I suggest you jump on it. It doesn't wear like a diver, but it's the perfect size for a vintage dress watch with some character. Thanks for reading.